Even if you're the only barber shop in town, if someone searches 'barber shop,' then you want your shop to come up. You need to have a Google My Business account if you run a barber shop so that your potential customers can find out where you're located, what your hours are, and see photos of your work and reviews from your customers.
When it comes to hair, people are very particular about what they want, and they aren't just going to take your word for it. They want to see examples of your previous work and hear from others who have already visited your barber shop to determine if you provide quality services.
Using Google My Business effectively will help you make the most of your listing, ensure you rank on Google, and attract customers with an optimized profile.
How to add my barber shop to Google?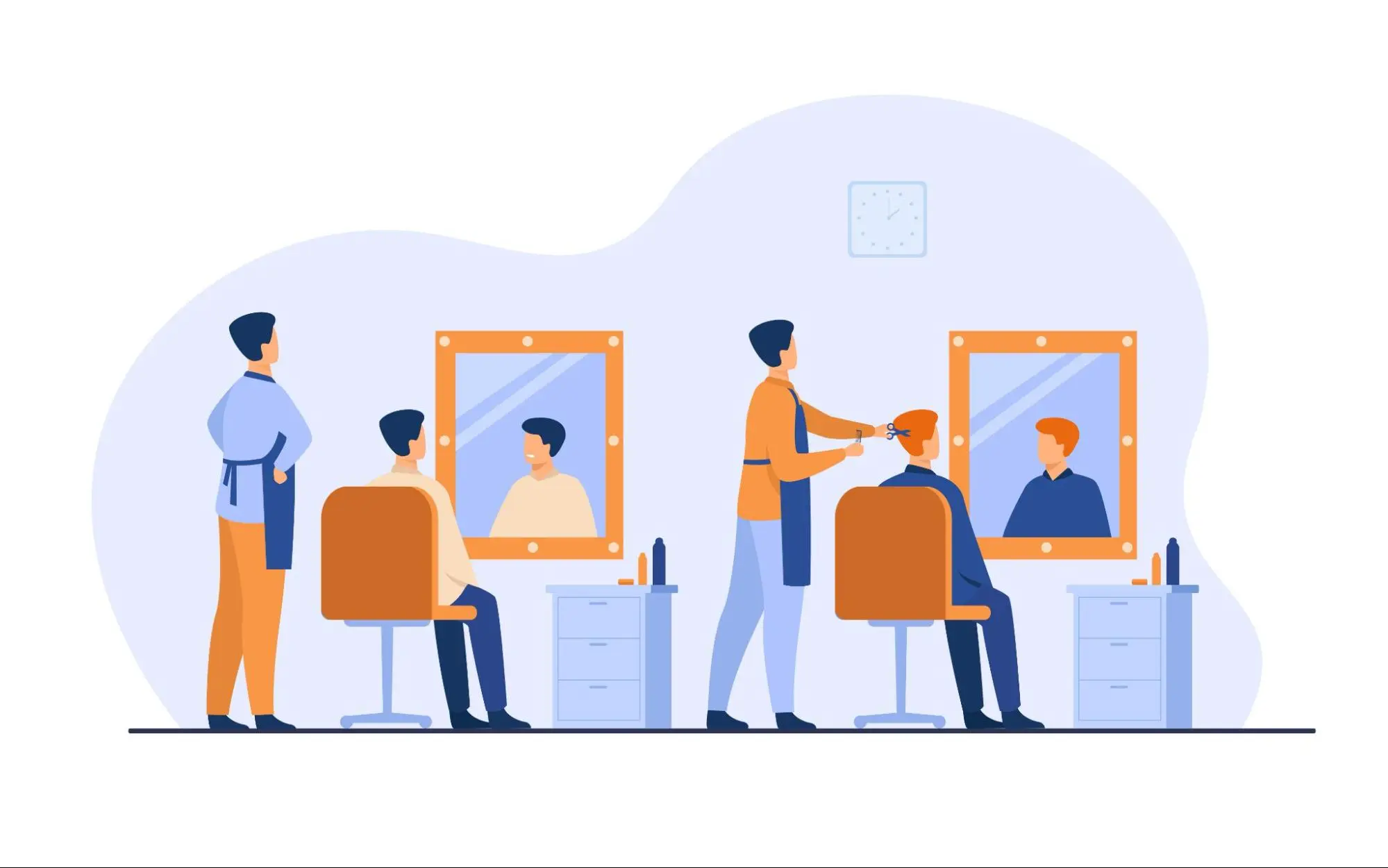 You can add your barber shop to Google in a few simple steps. If you already have a Google account, you can head to Google My Business and log right in. Once you have logged in, click the 'Manage now' button, which will bring you to your home page. There will be a search bar where you can enter the name of your barber shop and then click the 'Create a business with this name option.
Once you get to this stage, you simply need to follow the prompts to build your business profile. The steps include adding:
Your business name
Business category (which should be set to barber shop)
Whether or not you'd like to add your barber shop to Google Maps (which, of course you would!)
The address of your barber shop
Business phone number
Business website
After you've finished making your way through all the prompts and your profile is filled out, you'll need to verify your business before your listing goes live. There are a few different options for business verification: by mail, email, or phone. If you already have a business website that is verified via Google Search Console, then your Google My Business account should be instantly verified.
Once verified, your barber shop will appear on Google, and you can begin optimizing your listing with vital information like barber shop hours, services, and your logo.
Missing Location in your images?
Adding meta tags to your images improves search engine performance greatly!
Try It for Free!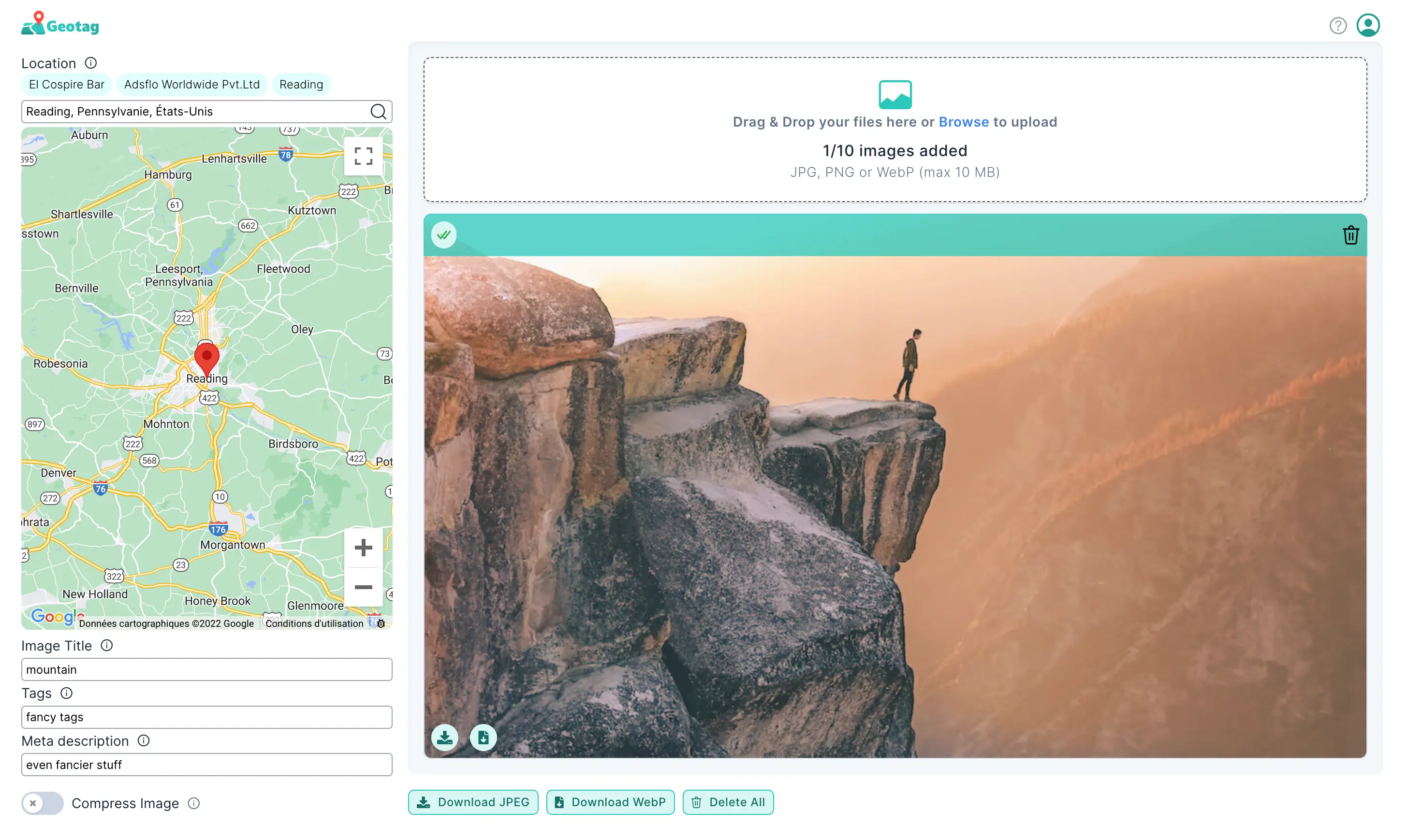 How do I add my services?
Adding your services to your Google My Business profile is essential. You're a barber shop, so it can be assumed that you offer hair services, but potential customers will want to know the full range of your services before they book with you. You might offer hot towel shaves, but if it's not stated on your Google My Business listing, then customers might find another barber shop that does list it.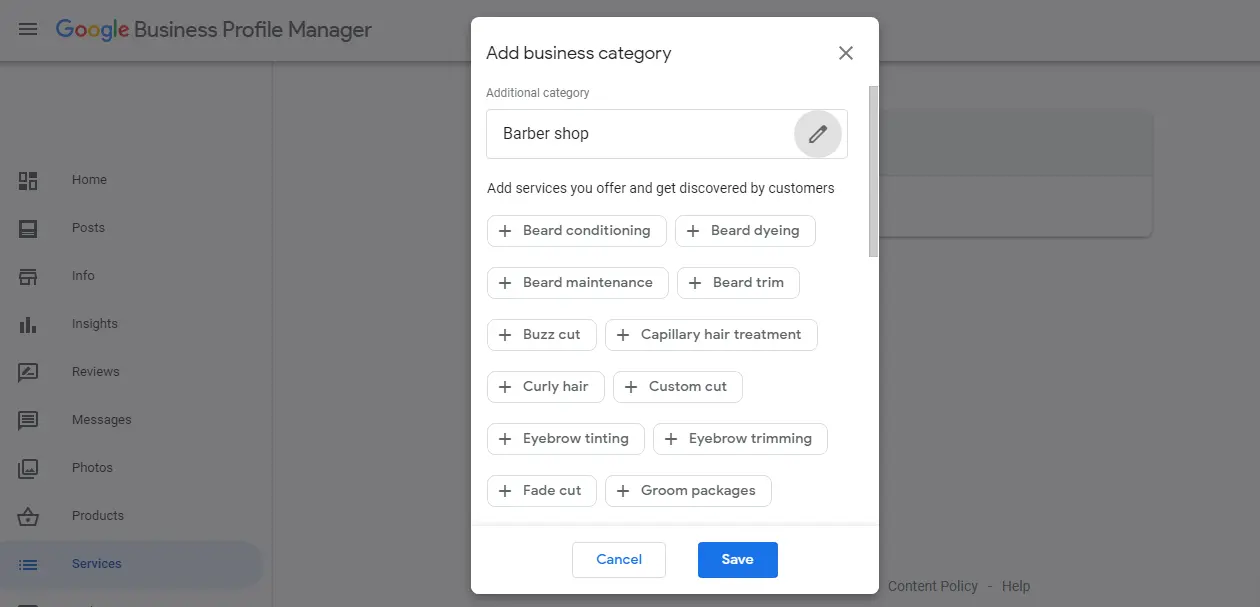 To add services, click on the 'Services' option on the left menu bar. From here, you can choose from a list of pre-populated services to add to your profile. These include options like:
Beard conditioning
Beard dyeing
Buzz cuts
Capillary hair treatment
Eyebrow trimming
Fade cut
Hot towel shave
Kids' cuts
Men's manicures
Body hair removal
Waxing
Straight razor shave
And more.
If you offer additional services that are not included in this list, you can also add your own custom services. Once you've added all your services, click 'Save.'
How do I add photos?
For a barber shop, showcasing photos of your services online is essential to build trust and interest from your potential customers. You wouldn't purchase an item without seeing it first, just as someone wouldn't want their haircut without seeing a barber's previous work. Before you upload any photos to your Google My Business profile, you need to ensure they are high-quality and include essential metadata that will help Google index them.
Make sure that photos aren't blurry or out of focus. Consider the composition of the pictures and have the subject in the middle of the image. Photos should all be professional and showcase happy customers. Lastly, use a tool like GeoTagSEO to add geotags, titles, and meta descriptions to your photos before you upload them.
When your photos are ready to go, head to your Google My Business dashboard and click on the blue '+' button. In the pop-up window, you can either drag and drop in your photos or select the images you want to upload from a folder on your computer.
How to rank on Google My Business?
Even if you include high-quality photos, have a fully populated profile, and list your services, it won't do you any good if you don't show up in Google search. As a barber shop, the success of your business is based on physical traffic to your shop. You want your Google listing appears to those in your local area who actually have the ability to visit your shop in person. It's no use appearing in a search for someone who lives hours away since it's unlikely they would ever become a customer. That is why optimizing your Google My Business listing is key so that you rank in search results for people in your local area.
Here are three ways to rank your listing on Google My Business.

Geotag pictures
Google's algorithm is constantly changing and can be challenging to figure out, but there are a few things we know for certain. Google wants to provide searchers with relevant search results, and to do that, it reads data. One important data point you can use to your advantage is geotags. Geotagging your images before uploading them to your Google My Business account will give Google valuable information about where your photos were taken.

You will have to add geotags to your images prior to uploading them, as it's not possible to change the metadata after the fact. To add geotags to your pictures, you can use a tool like GeoTagSEO, which allows you to pinpoint the exact geographical coordinates of your business and embed them into the metadata of your pictures. You simply head to GeoTagSEO, upload your image and enter your business address. Make sure this address is the same address that is tied to your Google My Business account. You can then download the optimized image, and it's ready to upload to your Google My Business account.

Use titles and meta descriptions
Similar to geotagging, titles and meta descriptions provide additional information about each image that Google can use to index photos, such as what is displayed in the image. Google can't 'see' images; it just reads data. You can add or edit titles and meta descriptions using a tool like GeoTagSEO, which allows you to optimize everything at once.

Reviews
Potential customers want to know what others have to say about your services before they decide to book with you. Good reviews build trust, especially if you're engaging with them. You should work to reply to every review left by your customers. Not only does this show people that your business is active, but it will also improve your visibility on Google.

Ensure your listing is up-to-date
There's nothing worse than finding a business online and showing up only to find out the business is closed. That's why it's so essential that your Google My Business profile is continually updated to ensure information is relevant. If you change opening hours or add/remove services, make sure that you update this information on your account.
Google My Business for your barber shop
By effectively using Google My Business for your barber shop, you can build trust with potential customers and help increase your rank on Google so that people can find you. An optimized Google My Business listing is essential to the success of your barber shop, so it's not something you want to overlook. Using this guide, you can ensure your profile is the best it can be to set your barber shop up for success.