Photos taken on your camera, cellphone, GoPro, or another device are often automatically tagged with geographical coordinates. While some devices allow you to turn this option off, you may not even realize that the geotag is even there. The coordinates are embedded in your pictures metadata, which you won't see unless you look for it.
These geotags can be beneficial, such as when you're using your pictures for your website or business profile. But there may be reasons you don't want your photos to have geotags at all. If your pictures are for personal use, you may want to protect your privacy and your geographical location by removing geotags.
There are a few different ways you can edit and remove geotag from pictures. In this article, we will show you how to remove tags on your computer, on Whatsapp, and on Facebook.
How to remove geotag from pictures from a computer
You can use a few different methods to remove geotags from your photos using your computer. Whether you use Windows or macOS, the first method is to upload your pictures to a tool like GeoTagSEO. While the tool allows you to add and change geotags, you can also save them without a geotag, thus wiping any geotag data attached to the original image. After uploading to the tool, you can simply re-download the image without any tags.
Alternatively, you can remove the geotag manually directly on your computer. Here is how to do so on Windows and macOS.
Windows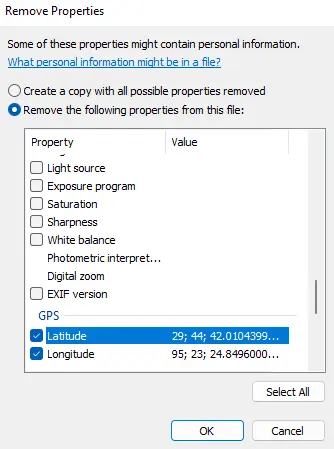 Find the photo that you'd like to wipe the geotag from
Right-click on the photo and choose 'Properties'
In the Properties panel, click on the 'Details' tab, where you will be able to see the geographical coordinates listed
At the bottom of the Details panel, click on the link to 'Remove Properties and Personal Information'
Click on the circle that says 'Remove the following properties from this file'
Scroll down until your find the geotag and click the checkboxes beside both latitude and longitude. Then select 'OK'
Missing Location in your images?
Adding meta tags to your images improves search engine performance greatly!
Try It for Free!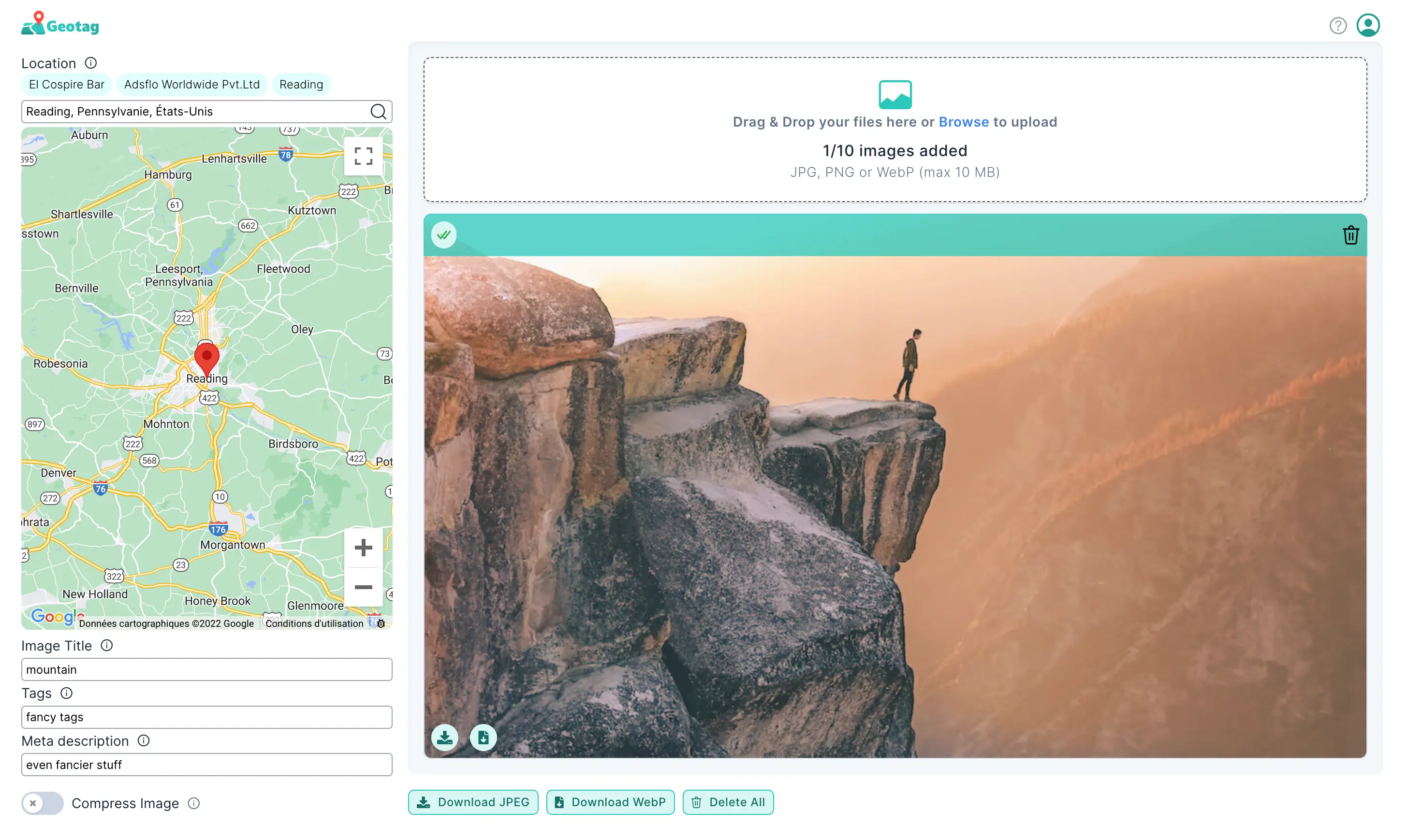 macOS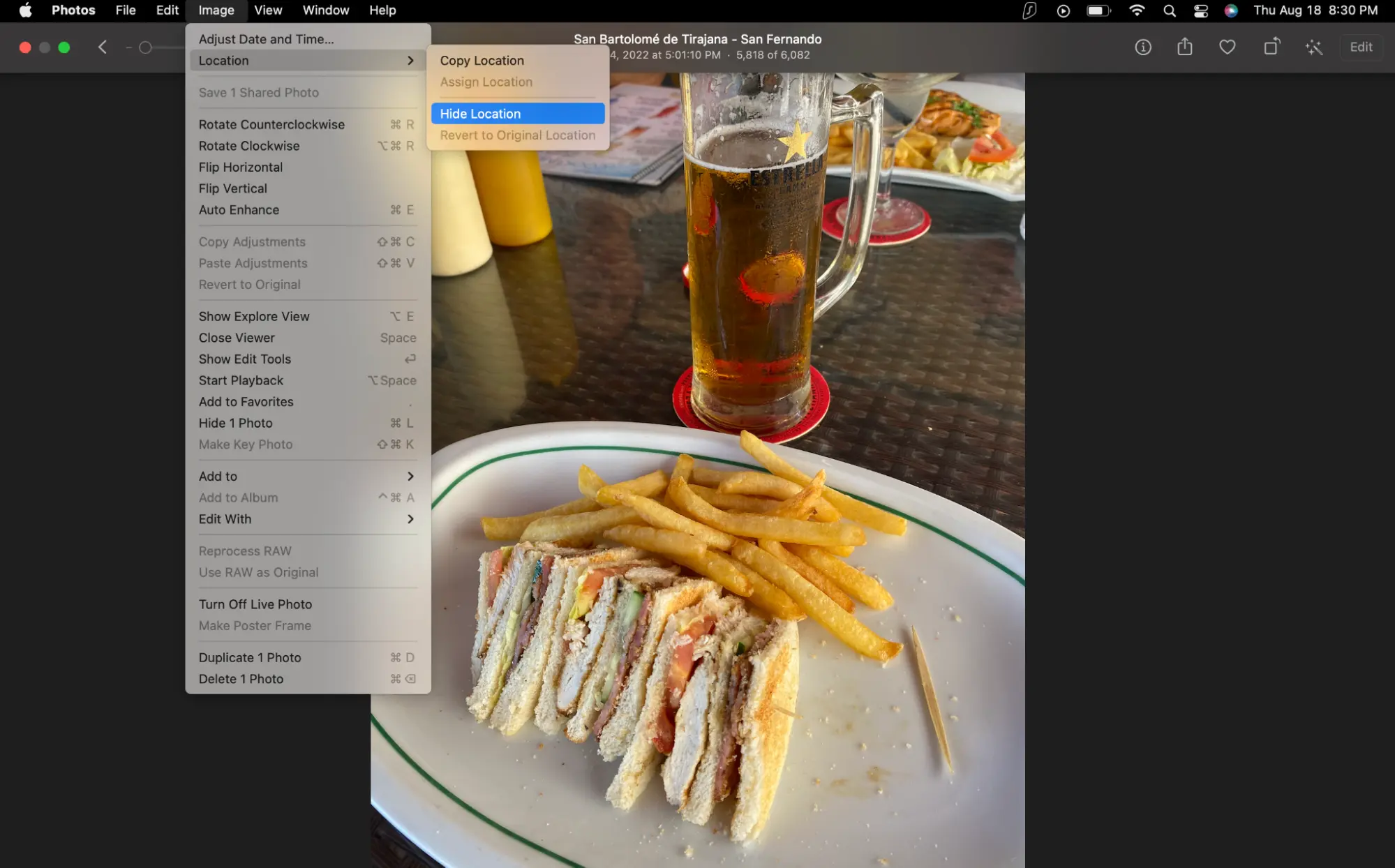 Open your Photos app and double-click the photo you'd like to remove the geotag from
Near the top right corner of the page, choose the 'i' icon, which appears in a little circle.
If the image has a geotag, you will see a map displaying a pin drop where your image was taken
Click 'Image' on the top menu bar
Select 'Location' from the drop-down menu
Another menu will pop up where you can select 'Remove Location'
By sending via Whatsapp or Facebook
When you send your pictures via platforms like Whatsapp or Facebook, all the EXIF data (or metadata) will automatically be stripped from your photo. That includes the geotags. If you're worried about your privacy and security when sending pictures to others, you can rest assured that they will have no way to access any geotags associated with the photos. So, you don't need to remove the geotag before sending your pictures.
Removing geotag from pictures
Removing geotag from pictures is a great way to protect your photos' privacy and location information. And by using this guide, you can easily remove the geotags from all your pictures in seconds.