Attracting customers for your cleaning service is difficult without cleaning service SEO. While many cleaning services operated just fine without a sizeable online presence in the past, things have changed. A strong business profile and website with high-quality images are essential to build trust in new, potential customers. If someone in your area is searching for cleaning services and can't find you, you will lose business to your competitors. And you don't need to be a computer genius to increase your presence and boost traffic to your cleaning service with SEO. Here are 5 ways to boost traffic to your cleaning business and start getting new clients!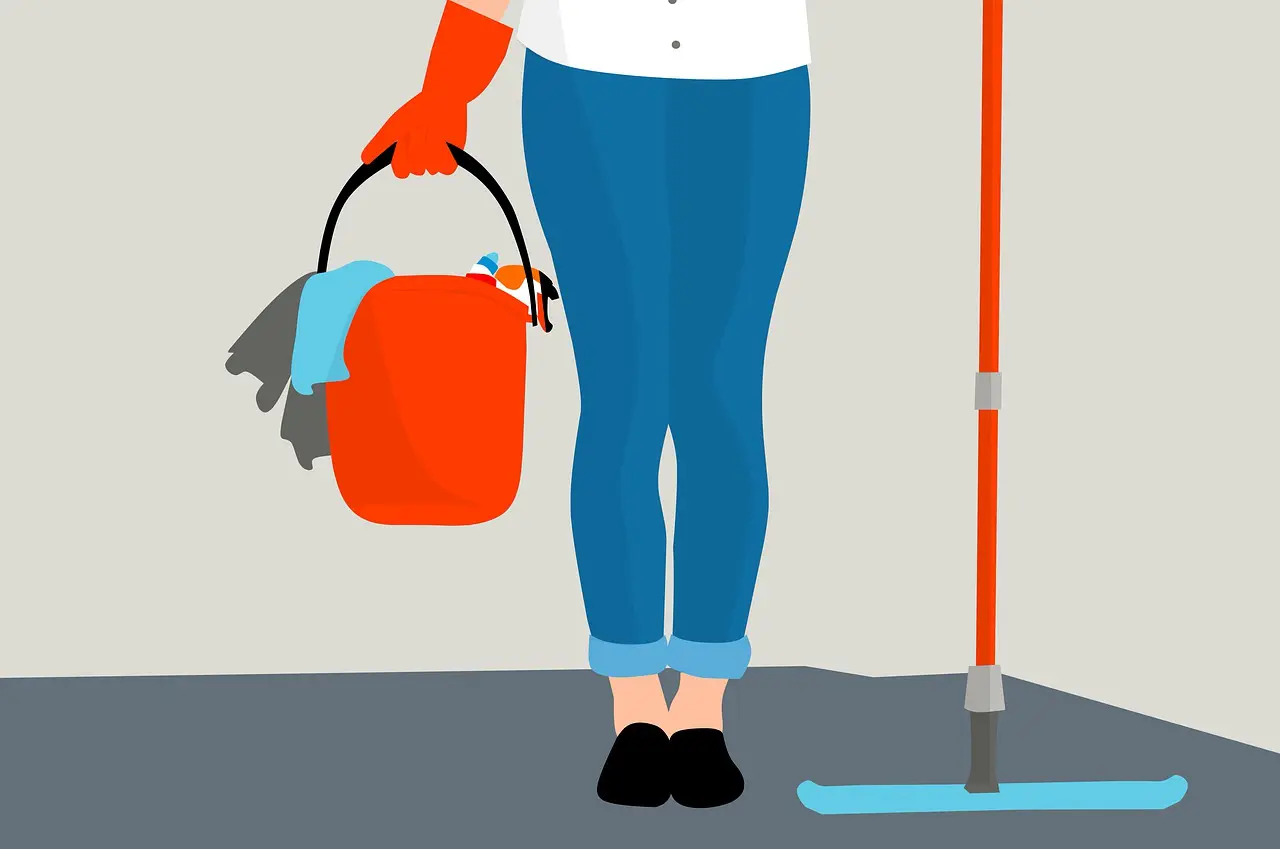 1. Set up a Google My Business page
Setting up a Google My Business (GMB) page is the easiest way to get new customers. If you do nothing else to market your business, creating your profile on GMB is the bare minimum. Even if someone hears about you from a referral, if they search your cleaning business on Google and nothing comes up, it instantly decreases your authority and reduces trust. Google My Business listings appear above the SEO results on search pages, so they are the first thing people see. They show reviews, photos, map locations, and a description of services offered. Plus, you can add call-to-action buttons to encourage them to book one of your services.
It's relatively easy to get your cleaning service set up on GMB. Just visit the Google My Business page and click "Manage Now." It will then walk you through the entire process of adding all the necessary information to list your cleaning service as a business. Make sure to fill out everything as thoroughly as possible since a complete profile always looks better.
2. Cleaning service SEO: Geotag your pictures
As a cleaning service, you likely only serve customers in your local community. There is no point in having your business page pop up in the search results of someone who doesn't live anywhere near you. Google aims to show users the most relevant search results based on their location, but if Google doesn't know where you are, then it can't present you to appropriate potential customers. The best way for you to get your business photos in front of your local community is with a combination of titles and geotags.
Geotags provide Google and other search engine crawlers with important geographical data about your images. When you add geotags, your pictures will appear on Google Image Search. Adding geotags is easy by using a tool like GeoTagSEO. You just need to upload your image, choose the geolocation, and add some titles and keyword tags. Combining geotags with optimized titles, meta descriptions, and ALT tags ensures that someone searching for your service will see your pictures. So, make sure the photos are good! Then, download your optimized images and upload them to your GMB listing or website.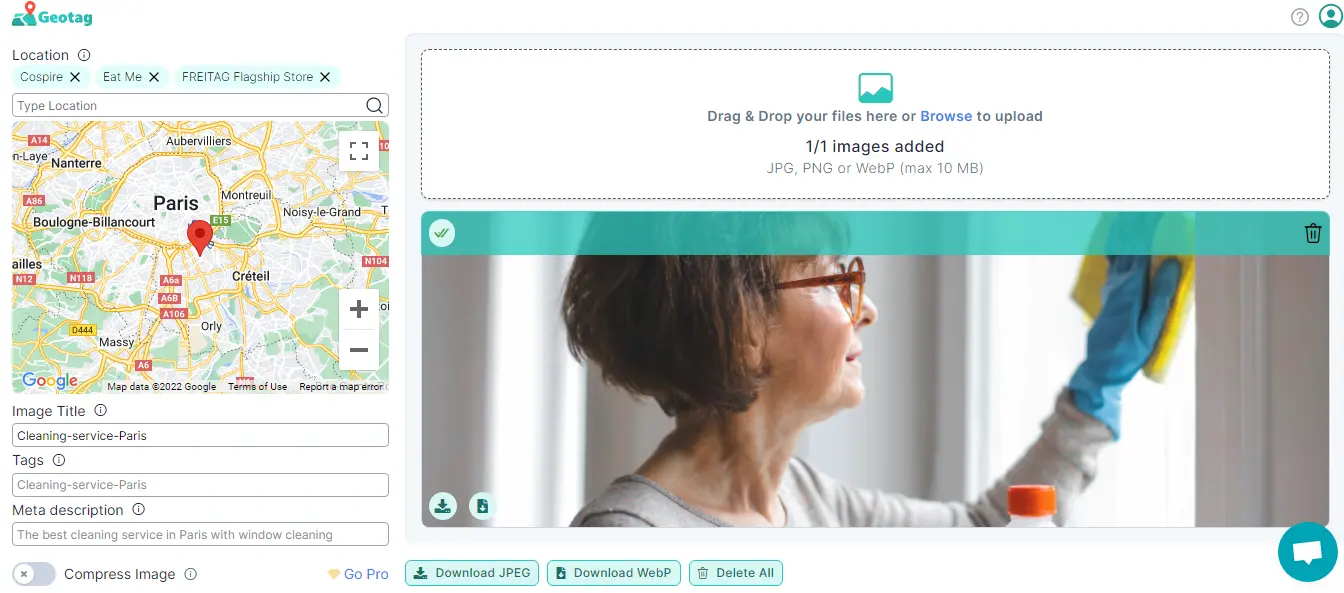 3. Use top SEO keywords for your cleaning service
Any time you write anything about your cleaning service online, whether that be descriptions, website landing pages, blog posts, or social media bios, it's vital to use keywords. These keywords should be phrases your customers are most likely to search for when looking for your services. Keywords should also be included in image titles, meta descriptions, and all image tags so they can be picked up in the background for technical SEO. But how do you know the best cleaning service SEO keywords? The keywords you use should be a mix of popular, high-volume keywords and more specific, niche keywords. Here are some to get you started:
Housekeeping
Window cleaning
Cleaning staff
Move out cleaning
Monthly cleaning
Carpet Cleaning
Maids near me
House cleaning services
Best apartment cleaning service
Deep cleaning services
Organic cleaning company
Bathing cleaning
Eco friendly house cleaning services
Make sure that when choosing keywords, you always use those most relevant to your cleaning services business.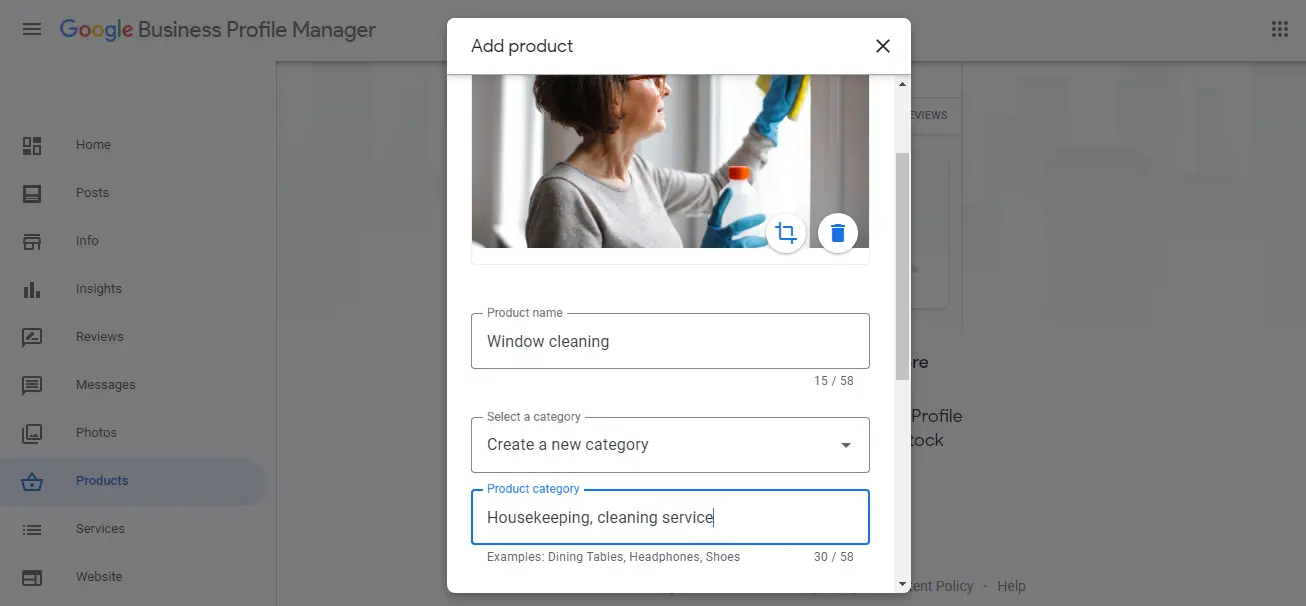 4. Enhance your Google My Business listing
While having a Google My Business listing is beneficial on its own, if your profile is blank, it won't make your cleaning service look very legitimate. An optimized Google My Business listing will help increase visibility and build trust in your service. So, when potential customers see your profile and photos, it will encourage them to book your services. Here are some of the ways you can enhance the Google My Business listing of your cleaning service business:
Explain all the different areas you can clean, such as office buildings, residential, window cleaning, construction sites, desks, etc.) Add all your cleaning services to the "products" section of GMB. Make sure you attach high-quality pictures with geotags. Add pictures of your team. Since your team members will be entering customers' homes/places of work, they will feel better about the opportunity to see your team ahead of time. This is a great way to boost trust. Use the keyword list we've included above and other relevant keywords and include them in the "Tags" area of your GMB listing. Ask all your clients to leave reviews on your Google My Business page, and include keywords if they can. This will help improve your ranking even more. Always reply to every review posted on your page, and include keywords in that as well. This shows you care about your customers and their experience. Include a list of locations in your targeted area. Choose specific towns/cities that you are willing to work in. Don't use generic locations like countries or states. Add important keywords in your cleaning service description. Use the posts section to create special offers, such as "Seeking a home cleaning service in Paris? Book your first cleaning here!"
Missing Location in your images?
Adding meta tags to your images improves search engine performance greatly!
Try It for Free!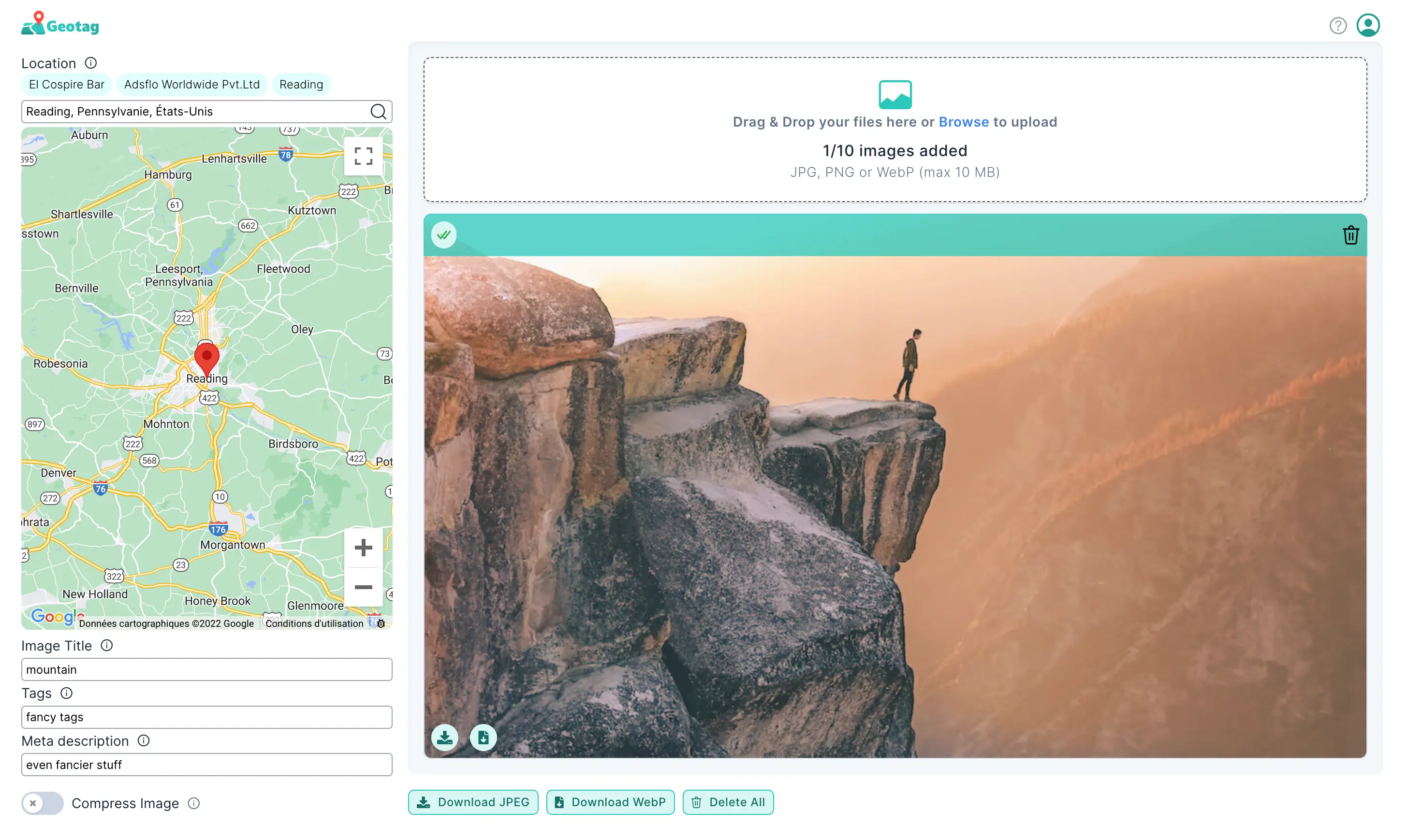 5. Optimize your website
Your Google My Business page isn't the only thing potential customers want to see when searching for a cleaning service. People want to hire a person or company they trust, especially when you'll be entering their property. A high-quality, optimized website will help establish your cleaning service as a reputable business and encourage people to book an appointment. We recommend using WordPress for your CMS since there are some fantastic plug-ins that make on-page SEO a breeze, even if you've never done it before. It's also one of the most inexpensive options on the market.
We also recommend creating a separate page for each of your cleaning services. That way, you can focus on the specific keywords for each of your services to help you rank for everything you offer, rather than just generic keywords. For example, use one page for carpet cleaning and another for bathroom deep cleaning. You can also include optimized, geotagged pictures on each page with ALT tags and titles that include the most relevant keywords.
You can hire an SEO agency to help you with on-site and technical SEO, or give it a try yourself by using the tips we've included above. The most important things to focus on if you do it yourself are using keywords in various headings on your website (H1, H2, and H3). Plus, ensure you include internal links to other pages on your websites (services and blog posts) and external links to relevant sites (such as the cleaning products you use).
Boost your traffic and attract new customers with cleaning service SEO
Cleaning service SEO is the best way to attract new customers by boosting your online presence and increasing your authority. An optimized Google My Business listing, complete with geotagged, high-quality images and strategic keyword placement, will ensure that your cleaning service business reaches your target customers and encourages them to book your services over your competitors. Couple that with a well-designed and informative website, and you'll put your business in the best position for success.