Electrician SEO will be your new best friend if you want more customers for your electrician business. When people need an electrician, the first place they go is Google. Electricians are often required in emergency situations, so people may not have much time to research and dig through many electrician profiles. Statistically, people will choose from the top search results, so your electrician listing needs to appear there. SEO is the best way to target relevant potential customers, and we have 5 top electrician SEO tips to help you get to the top of search results.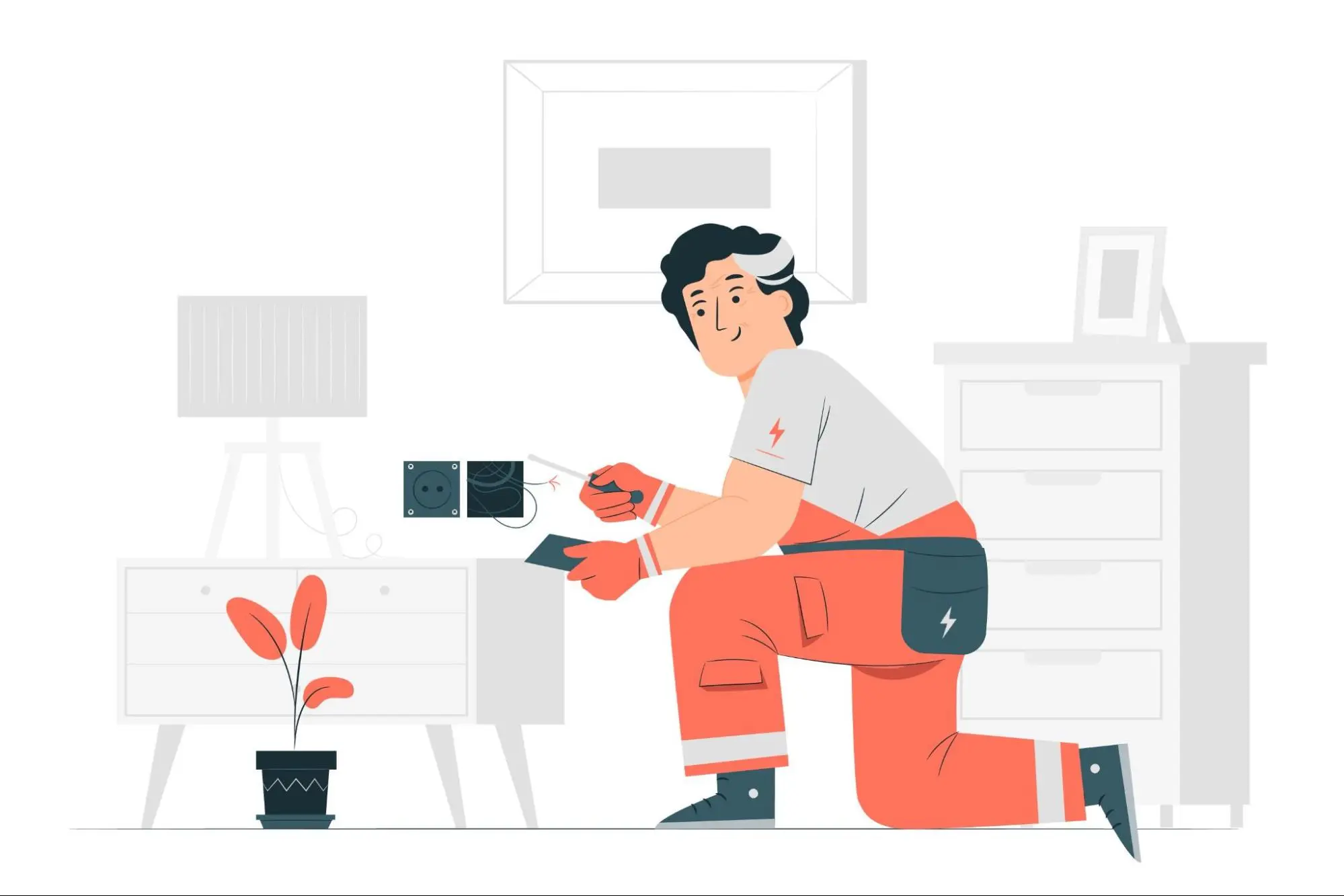 Create a Google My Business page
Google My Business (GMB) results appear above the regular search results on Google, so they are the first thing people see. Without a GMB page, your electrician business won't look legitimate and likely won't be found at all. A GMB page also provides a place for you to showcase pictures of yourself, what you work on, and somewhere where happy customers can leave reviews. This all helps build trust in your electrician business. Setting up a Google My Business page is easy. Simply head to Google My Business homepage and click "Manage Now." From here, follow the prompts to enter as much information as possible about your business so Google can present it to relevant people in your area.
Add geotagged photos of your work
Including photos of yourself and your work as part of all your online listings is incredibly important. Whether on your GMB page, website, or social media, people are visually driven. They want to see photos of what you do, and what you look like (even if this seems irrelevant for an electrician). But these photos on their own are not enough to boost SEO. Google can't "see" what's in your photos, which is why it relies on image metadata to provide information about the photo. Geotagging your pictures is an opportunity to tell Google where the photo was taken, so it can present them to relevant people. For example, if someone searches "electrician Seattle" on Google Image search, they will only see your photos if you've added geotags. To add geotags, you can upload your pictures to GeotagSEO, and add geographical information (make sure the location matches your location on GMB). You can also use the platform to add relevant keywords in titles and descriptions. Find some great keyword options below.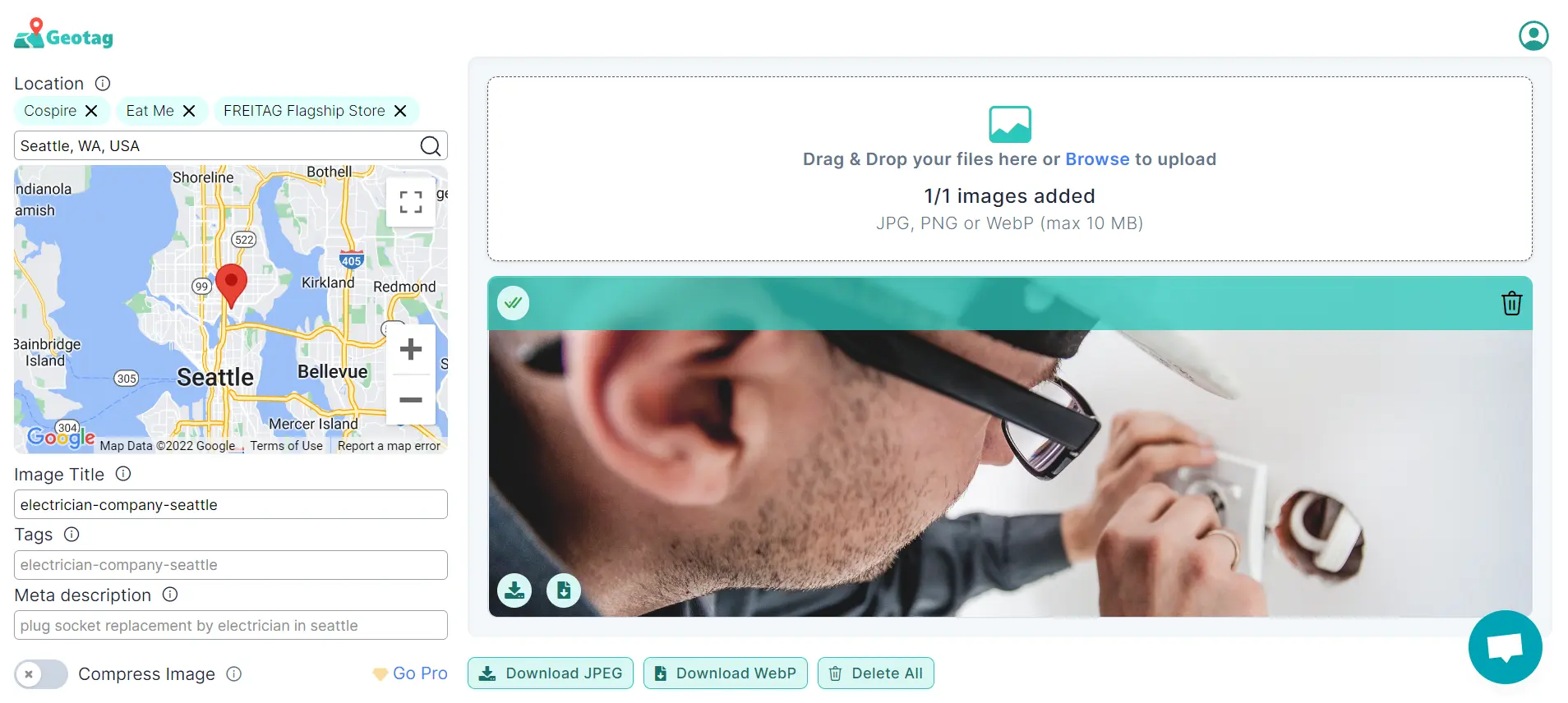 Use the best electrician SEO keywords
In order to appear in the search results of your potential customers, you need to optimize your online presence with relevant keywords. These are the words that people are searching for when they are seeking a local electrician that offers your services. Add these keywords to your GMB profile, website, photo titles, and any other written content about your business. Here are some keyword ideas to get you started:
Electrician
Electrical wiring
Local electrician
Journeyman electrician
Residential electrician
Electrical Repair
Licensed electrician
Electrical outlet wiring
24 hour electrician
Certified electrician
Electrical house wiring
Ceiling fan installation
Panel upgrade
Home fire alarm installation
Also, add your local area before or after these keywords for even more targeted results (i.e., Electrical house wiring Seattle).
Missing Location in your images?
Adding meta tags to your images improves search engine performance greatly!
Try It for Free!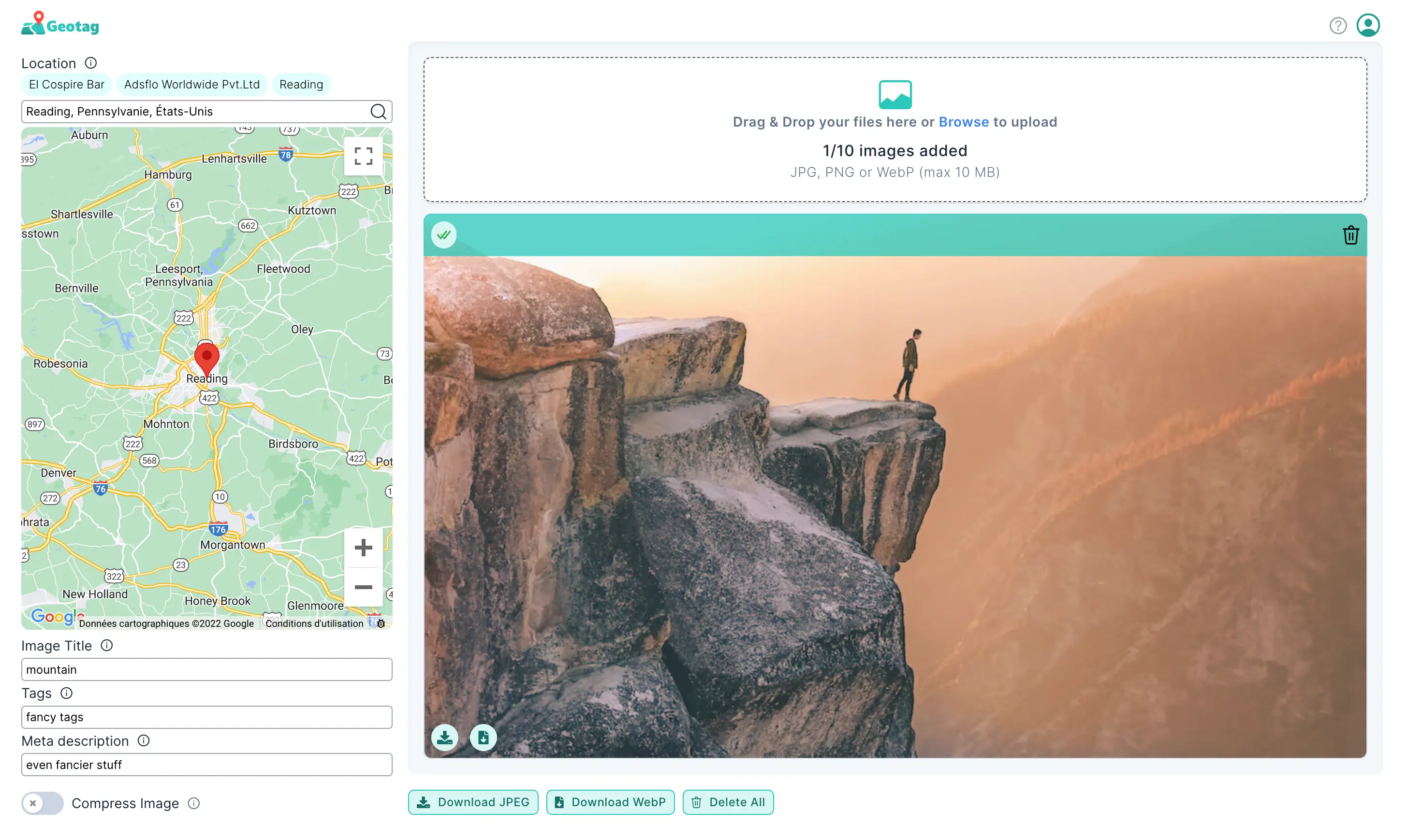 Optimize your Google My Business page
Creating a Google My Business page is a great start, but there are many ways you can optimize the page so that it has a better chance of reaching potential new customers. Here are some ways that you can make your GMB page even better:
Add geotagged pictures of yourself and your staff (people like to see faces).
List all of the services you offer as an electrician in the "products" section.
Add targeted keywords to the "tags" section.
Ask customers to leave you a review using keywords.
Answer all reviews using keywords.
Add a list of local locations that your service to your targeted area (use specific towns/neighborhoods)
Use as many keywords in your business description as possible while ensuring it sounds natural.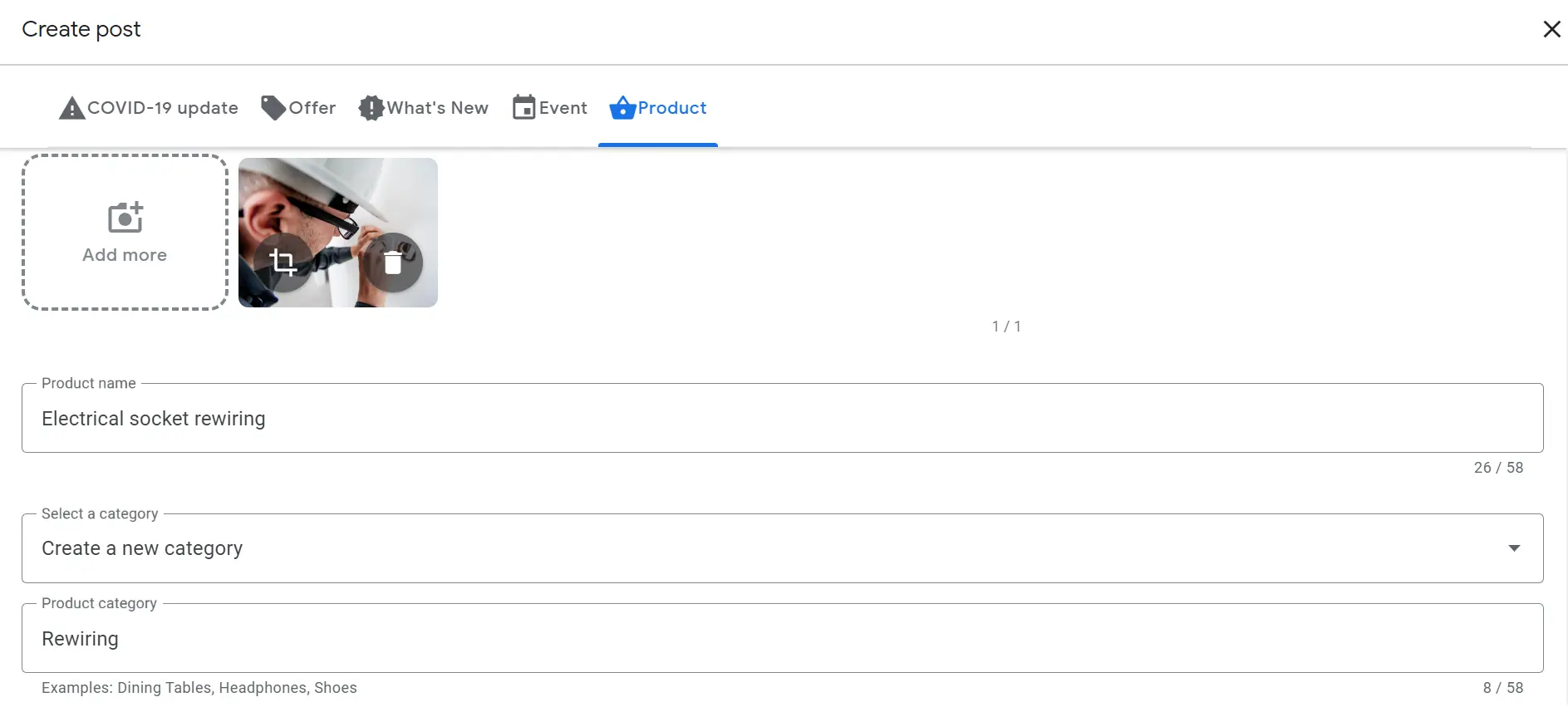 Electrician SEO website tips
Your website is another excellent opportunity to get more customers if you correctly implement SEO. We recommend using WordPress when building your website, as it's the best CMS for SEO and is cheaper than many competitors. Ensure that all the photos you use on your website are geotagged with your business location and you include descriptions and tags with keywords. You should also aim to use keywords in all website headings, internal and external links, and your domain. Make sure you create separate pages for each of your services, which will help you rank in search for everything you offer.
Electrician SEO tips to get new customers
By implementing all these tips and tricks, you can help increase the chance of your electrician business showing up on Google. By using targeted keywords that include your local area and geotagging your images with your location, you'll ensure that Google is presenting your GMB listing, website, and photos to people in your local area who will most likely require your services.